REMINDER: Shrink-wrap recycling bags are coming soon…
Reserve Yours Today - $15.00 per bag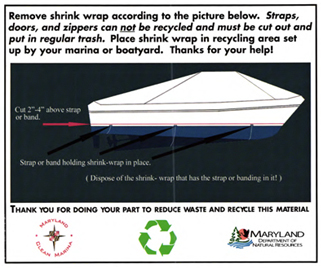 For the 2022 Season Bay Boat Works, Inc. will again be asking you to participate in the Marine Trades Association of Maryland's Shrinkwrap Recycling Program as described below.
We will take pre-orders for the bags which will be available in Marina Store for $15.00. We encourage you to reserve your bag(s) - (each bag will hold 40 lbs or wrap from a 35' boat or smaller) – once our supply is gone, you will be responsible for the disposal of your shrink wrap. Shrink wrap must be ready for recycling around April 28th (we will be given a set pickup date and let you know).
We will let you know the designated area for dropping off shrink-wrap bags.
Bay Boat Works dumpsters may not be used for disposal and anyone doing so will receive a fine and charge for the disposal.
We have a link for a video on how to prep the shrink wrap for recycling. NOTE: All straps, zippers, doors and vents must be removed and only shrink wrap placed in the bags. We will have an area set aside for placing the bags for pickup.
Click the link below (or cut and paste into your browser window) to watch a video on how to prepare your shrink wrap for recycling.