About Us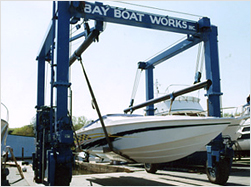 Bay Boat Works is an extremely well-protected anchorage with 137 boat slips and 32 moorings for sailboats. Summer land storage is available for trailored boats with ramp access. Indoor and outdoor winter storage is also available for up to 300 boats. Our marina has been family owned and operated since 1928. Located half-way between Baltimore and Philadelphia, it is conveniently accessible from I-95.
We received our Maryland Clean Marina certification on April 29th. 2002, making us the first certified clean marina on the North East River.
Since signing the pledge in January 2001, we have subscribed to and enforce ,any pollution prevention procedures. We recycle waste, oil, antifreeze, batteries, plastic, glass, aluminum, newspaper, and cardboard. Although do-it-yourself work is encouraged in the yard, strict rules are enforced.
We also have readily available dustless sanders with vacs for half or full day rental in our store. On the gas dock, "No Spill" containers are used to prevent the overflow of fuel into the river, and oil absorb pads and booms are available for small spills.